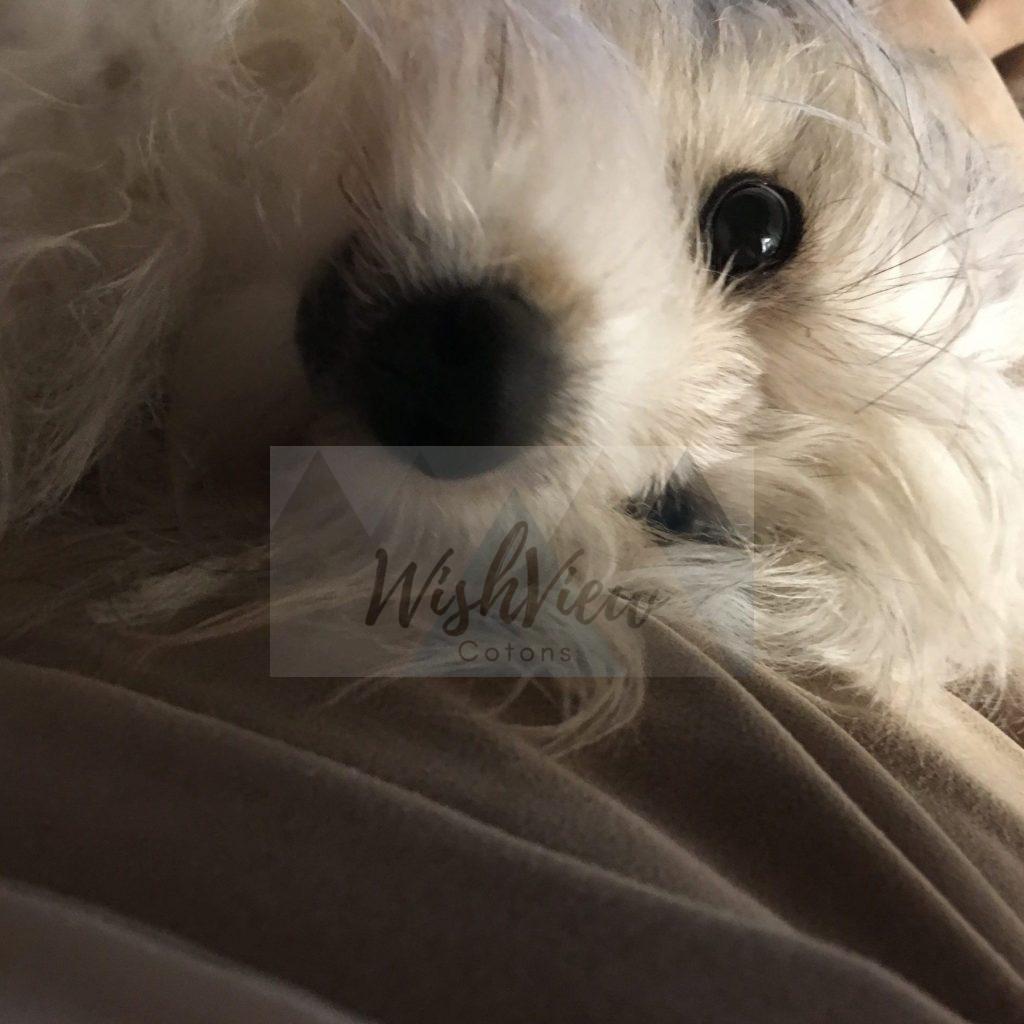 Guess what I was doing yesterday morning…that's right, I was wearing my midwifery hat and helping Juniper welcome five adorable little bundles to the world!
The first born on July 7, 2021, at 10:12 was a sweet little tri colored female, then a white female with a smudge of brown on the tip of her ear at 10:43, a white male with a cream patch on his head was born next at 10:49, then a handsome little black and white male at 11:10, finally at 11:31, she had another white female!

All these pups are already spoken for from our waitlist.

It is Zoe's turn to choose the names for this litter and she has chosen to go with a Famous Movie Dogs theme.
~DIXIE~
The first born of Junipers sweet quintuplets is Dixie. She was born with a beautiful tri colored heart on her back at 10:12 am and weighed 210g. She has been nursing like a champ and is now 248g.

Zoe named her from the movie Because of Winn Dixie.
~BOLT~

A very special girl was born next at 10:43am. She was the largest of the quints at 218g and was born with a lesion on her back.
This is one of the indicators of Spina Bifida which to my knowledge has never been seen in a Coton before but I have come to learn can occur in any breed. It is a defect of the spinal cord which occurs before they are born that prevents the vertebrae from completely closing. It can be mild to where the pup grows up completely normal without any symptoms at all to very extreme and the pup could be completely paralyzed in their back end or have other neurological problems and not survive.
Bolt has struggled the first couple of days; she hasn't been using her back legs, or tail and was consistently losing weight to the point she weighed 202g this morning even though she had been spending a lot of time at the milk bar and nursing well.
I took her to the vet to be assessed today to try and determine if she had any other issues going on which could be contributing to her weight loss and aside from the sore on her back which at this point is half the size as when she was born, she appears to be a healthy puppy.
Armed with that knowledge, a lesson on tube feeding from my amazing vet, and rewatching the informative Myra Savant-Harris video from her Puppy Intensive Care book I tube fed little Bolt. She did awesome, had a nice long nap with her now full belly and woke up raring to take on the world! She has been nursing wonderfully all afternoon/evening and even tried out her back legs 🥰 She also gained some weight for the first time! I weighed her right after feeding and she was at 209g and tonight she is up to 214g!!
This is the hard and frustrating part of helping to preserve a breed. You can do all the research, and testing, give your dogs the best possible care and despite all of that something can go wrong. Rather than choosing to immediately euthanize her we have decided to do our best to help her survive and give her the time needed to see what, if any deficits she may have. Hopefully with a lot of prayers and some good luck she will grow into an amazing companion with just some pictures to show for her difficult start.
~HERCULES ~

Quickly following Bolt at 10:49 Hercules was born. He was the second largest at 217g. He is all white and has the sweetest little cream patch on his head. He has been thoroughly enjoying the milk bar and is now the largest puppy at 265g!
Zoe named him after the dog in the movie The Sandlot.
~DUG~

Next up was this tiny little cutie that Zoe has named Dug from the dog in the movie Up. He was the smallest born at 154g but is now "SQUIRREL" 189g. It will be interesting to see if he keeps his black and white coloring or if he is a tri colour in disguise.☺️
~TOTO~

Our last little quintuplet was this sweet girl who was born at 11:31. She was the second smallest at 205g and has been steadily gaining and now weighs 241g. Toto is also all white with some beige spots on her head and body.
Zoe named her after the Famous Wizard of Oz pup.
Week 1: So this gorgeous Momma and her babies are doing great! She is a little protective Rock Star making sure their every need is being met and is finally completely relaxed when I take sweet little Bolt for her physiotherapy and feedings.
Everyone has been gaining weight and starting to toddle around. Dug on day 2 even stood straight up on all four legs and took a few steps to the milk bar of course!
J's temperament with puppies is very different from Maui's. She is a bit rougher when cleaning them and waits to let them try to do things on their own before going to help them, so I find her pups end up being a week or so ahead of M's as far as mobility so I've added some weight bearing lessons to Bolts exercise and massage regime and have already noticed a huge change in her muscle tone and mobility- yay, you go little girl!!
Hercules is living up to his name and getting huge! Sweet girl Toto likes to move around a lot and may soon be running circles around the whole litter! Dixie likes to keep me guessing…where is she this time?! 😆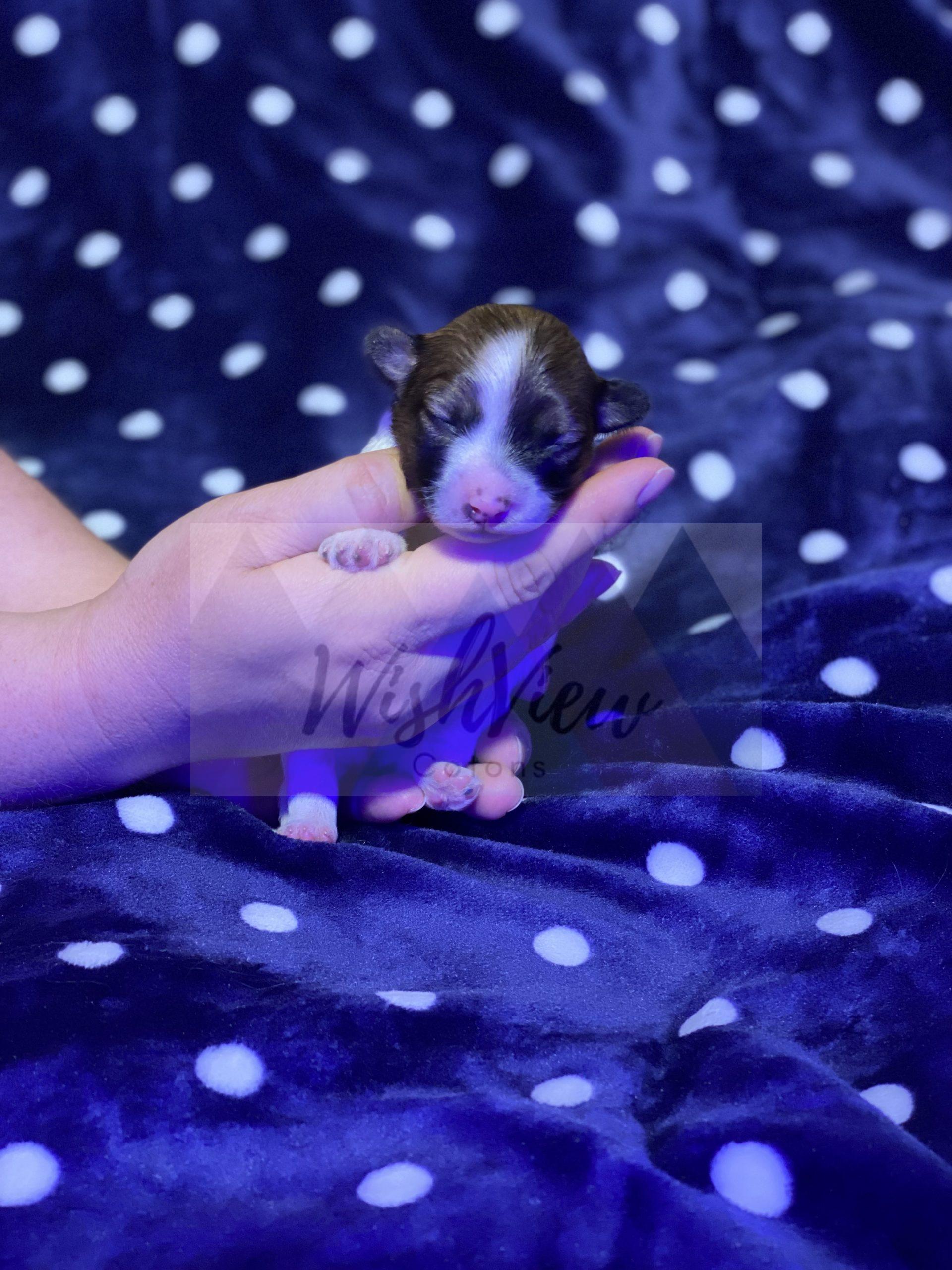 RIP Bolt July 7-16
Our sweet Miss Bolt has crossed the rainbow bridge. She was doing great until early Thursday morning; we did everything we could to help her survive but unfortunately Friday evening we had to make the difficult decision to say goodbye to our special girl.
Thank you to Dr. Tara for her expertise and compassion as well as all of you for the healing thoughts and prayers you sent her way, we really appreciated it.
Week 2: Juniper and Hudson's sweet puppies are two weeks old!!
They are all doing fantastic, getting chubby and their eyes have begun to open which means they've moved from the neonatal stage to the transitional one in our Puppy Culture program. 🥰 Little Dug was the first to take a look around on Monday and as you'll see in his photos his eyes are wide open now. Hercules and Toto's were starting to open this morning and Dixie's I think will be by tomorrow morning.
Some Saturday morning cuteness! Oh, my word these puppies are adorable!! Toto had her first full on tail wag when Mum came back from a potty break-it was the sweetest moment 🥰
They also have reached another big milestone- their ears have all opened and we had our first startle response. This means that we have moved into the Socialization period of their Puppy Culture training where we will start working on our sound protocols (exposing them to classical music and habituation recordings), shaping emotional responses, start giving them their first challenges, and working on their startle recovery.
Now that all their eyes are wide open, we can also begin to introduce something new to them each day. So, the busy, yet so fun 8wks till they get to move to their Forever families' homes has begun!!
I hope you all have a wonderful weekend; I'll just be over here cuddling puppies! 😜☺️
Week 3: Guess who's 3 weeks old! Juniper's little sweethearts have gotten very chubby and adorable ☺️ They are getting much stronger at walking around, so we have expanded their whelping pen to give them more room to do so.
They were also being so consistent with using the pee pad that they got an upgrade today to a litter box with some EZ Pelletz as well!
They are playing with each other now as well as interacting with toys and new things I put in their pen to explore.
Week 4: We have some adorable little puppies in the house who are four weeks old today! They have gotten bigger and decided to begin some barrier challenge work on their own lol. Only one has been successful so far (check out our Instagram or Facebook pages for the video) but they have all made valiant efforts to get over that wall to Momma!
Week 5: Guess who's five weeks old. Junipers Famous Movie Dogs, that's who!
These sweet puppies are doing awesome. They are all very well balanced and so stinkin' cute 😍
They have moved out to the weaning pen during the day, so they are exposed to all the sights and sounds of our home. They have also been loving all the new foods they have been trying and are doing very well using their EZ Pelletz litter boxes.
~DIXIE~
5 weeks old.
Dixie is 1.29kg now. She is such a sweet little girl who likes to go on adventures and play then come to her favorite people for a snuggle. She is also very brave and loves to give kisses 🥰
~HERCULES-
5 weeks old.
Herc weighs 1.25kg. This gorgeous boy is our little explorer who loves to learn new things. He is also very energetic, playful, curious and check out those eye lashes!
~DUG~
5 weeks old.
Dug is still our littlest pup at 1.06kg. He is a very chill little dude, very patient and calm. He is also very sweet and cuddly. His pigmentation has come in a lot and this handsome boy looks like he has a 🖤 on his nose 😍
~TOTO~
5 weeks old.
This little doll is 1.27kg. She is a very easy going, calm and playful puppy. She will sometimes sit back and check things out before jumping into new situations but was also the first to approach Bentley. She loves people, is very friendly and cuddly. She also has the most gorgeous, long eyelashes-the photos don't do them justice!
Week 6: We are six weeks old today!!
Juniper and her little dolls charmed the staff at the vet clinic today. All did awesome getting their immunizations and received clean bills of health. For the first time we were able to bring a litter to my regular repo vet clinic and I was so busy chatting and answering questions that I completely forgot to take any pictures 🤦🏽‍♀️
~DIXIE~is such a sweet little doll. She is very people focused, friendly, playful and so photogenic!
~HERCULES~is such a sweetheart! He loves giving kisses, is very people oriented, fun and playful.
~DUG~is such a gorgeous puppy. He's very sweet, playful, loving and just wants to be with you.
~TOTO~is such a cutie pie! She is very playful, loves to give kisses and be close to you…a little too close to my toes lately with those sharp little teeth! 😆
Week 7: These adorable little foot warmers are 7 weeks old today!!
Hard to believe in just a few short weeks they will be moving on to bless their forever families. Although it is always hard to say goodbye to these living dolls, it is also so amazing that we can bless another family with one of these incredible dogs 🥰
These babes had a milestone day today-only 1 accident! They did so awesome & barely made a mess at all which is typical since I was trying to make before and after videos for my families 🤦🏽‍♀️🙃 Oh well I'm super proud of these mini enrichment seekers!
Week 8: 8 Weeks has just flown by! Junipers little cuties are doing great, getting so fluffy and even more adorable. We had a puppy party last weekend. It was a wonderful opportunity for the puppies to meet their Forever Families as well as try out some new obstacles. Of course, we were having so much fun that I forgot to take any pictures 🤦🏽‍♀️ although I think maybe that's better. It was far more important for us to be in that moment, focusing on the puppies while getting to learn from and get to know one another better. 🙂
~DIXIE now PHOEBE~
This sweet girl is so smart and patient. She definitely has this manding thing down pat and is often looking at her siblings like don't you get it?! You sit she gives a treat it's not rocket science guys! 😂
She was very charming with all of the new faces at the puppy party and breezed through the obstacles but would have loved to also go see where all of the grass lead too.
~HERCULES now ASHER~
This handsome boy loves to go on adventures, is very outgoing and sweet. He also did well with all of the obstacles and loved having new friends to play with. He LOVES puzzles and has been very quick to figure out any new challenge I throw at him. 🥰
~DUG now Balto~
This little love is happiest when he is with people. He is very gentle, well balanced and has discovered this week that he can figure out anything he sets his mind too. He is always the first to come find me, in a room I wasn't expecting they could get to, after he finds the smallest gap between the puppy pen panel and the wall! 😆
~TOTO now Tess~
This gorgeous little fluff was a rock star at the puppy party! She was super social, listened and went through the obstacles no problem, then had a blast playing and exploring.
She loves to snuggle and be close to you…and those eyes! 😍
Today's novelty item was our giant beach umbrella…yes I may be hating the cold weather and what that ultimately means and wishing I was on a Hawaiian beach-soooo?! A girl can dream and take her puppies along for the ride 🤣🤣
I thought that there would at least be a pause to consider what the heck this thing was but nope, these little smarties ran right in and started investigating the new toy! Even after I moved it around or folded it up they were unfazed and just excited to have something new to investigate.
I think the new bed is WishView puppy approved!! 😜
I actually got it for their Dad, Hudson, since he LOVES being under blankets but thought it could be their new item to try out today.
I usually move them into their crates for their naps but I think I'll let them enjoy the new fuzzy bed for this one. 😊
They are in birth order left to right- Phoebe, Asher, Dug & Tess.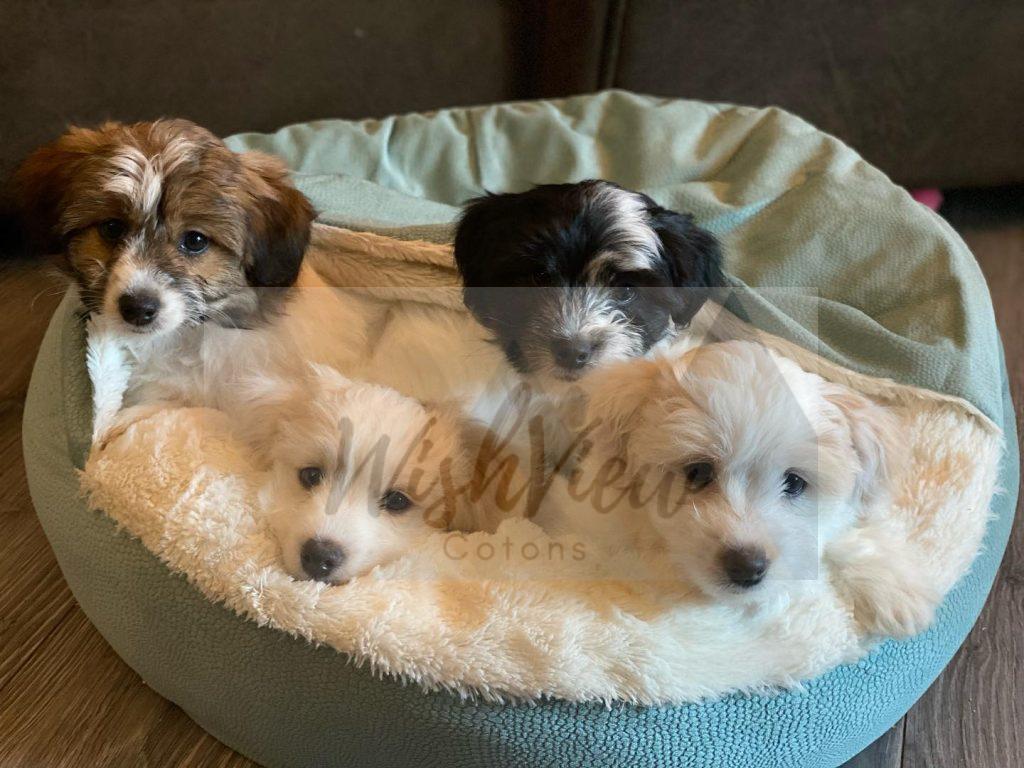 Week 9: These little cuties are 9 weeks old today and are doing fantastic with their puppy recall 🥰 We start teaching them "puppy, puppy, puppy" when they are around 4wks old, then as they get older we add the command "come" with their names. This helps establish a regular as well as an emergency recall for these babies as they transition into their Forever Families homes. Speaking of which it won't be long now till Juni's pups are on their way to bless their families with sweet puppy kisses and adorable antics like morning zoomies in their new homes. As always it will be bittersweet to say goodbye but I have some amazing families lined up ready and excited for them to get there, and knowing how much joy and love they will be bringing to them makes it all worthwhile!
Week 10: Guess what…Junipers babies are 10 weeks old!
Of course I had to get the traditional peeking through the gate picture with these little dolls lol Left to right is Phoebe, Balto, Tess & Asher.
All of the puppies aside from Asher are now out blessing their Forever Families with love and sweet puppy kisses. Mr. Asher gets to hang out with us for another week or so before he'll be going to live with his amazing family and his new big furry sister 🥰
Week 11:
~ASHER~
11.5 weeks old
This handsome boy and I have been very busy meeting new people, learning new commands and going on some fun adventures.
We brought the horses and llamas home from their summer pasture today so he was able to meet them before he goes on his biggest adventure yet; to meet his new furry big sister and live with his Forever Family tomorrow 🥰
He's also taking after his Houdini Momma and learned his own trick as well – crazy, fearless puppy! 🤦🏽‍♀️🤪
We will definitely miss this adorable little man but he is going to an amazing family who is going to love and spoil him like crazy, so it will be far more of a happy day than a sad one. 💞
If anyone is curious to know how these puppies are looking now check out these gorgeous babies!
Birthday Photos Coming July 2022!