Juniper is expecting!
We have bred Juni to this handsome boy. His name is Charlie, and he is as sweet as he is gorgeous! We are so excited to meet their babies in August.
Juniper and Charlie welcomed their beautiful babies on August 9th.
With each litter I have let a different member of my family choose the theme and name the puppies. This time it is my amazing husband Chris' turn. He has been very excited and thinking hard on what he should choose and as you will soon see he has a bit of a twisted sense of humor. 🤦🏽‍♀️ The fact I'm going along with this must mean I really love this guy! 😝

So without further ado let me introduce you to The Difficult Names Litter!

August 9th, 2022 at 05:21 Juniper gave birth to her first beautiful puppy, an all white female, who weighed 212 grams Chris has named her Princess Puddle Pants.

Next came another beautiful little (197 g) all white girl at 05:49, who has been called Omagh (pronounced Oh Ma).

The third puppy born is a gorgeous tri-colour male with chocolatey brown splotches. He was born at 06:04 and weighed 220g and will be called Yngwie (pronounced Ing Way).

The fourth sweet tiny girl was born at 06:10 and weighed 172g. She was also a beautiful tri-color but sadly crossed the rainbow bridge before she was born and we were unable to revive her. He affectionately called her Gabriel.

The fifth puppy, like his Daddy, is a handsome pure white male, he was the largest puppy tipping the scales at 231g and was born at 06:17. His name shall be Sir Fartzalot!

The sixth and final puppy was born at 06:32, weighing 216g, and is a tri-color female who is all white aside from an adorable dark chocolate and grey spot over her left eye and another spot on her right ear. Her name is Blarfingar (pronounced Blar Fin Gar) and although Betty White spelt it Lee Smith Chris wants us to spell it Blarfingar 🤣

Momma Juniper is thoroughly enjoying being pampered as she feeds her little loves and they have all been eating well and steadily gaining weight. She rarely leaves their side…unless you walk in the room with 🍿 then the puppies are on their own! 😆
~Princess Puddle Pants~
1 day old
228g

For over a decade any time we added another animal to our menagerie dog, cat, chicken, goat, horse, llama -male/female it didn't matter Chris' go to name suggestion was Princess Puddle Pants! 🤣
~Omagh~
1 day old
202g

Most people don't know that my husband is a very talented writer and one of the characters from his latest story is Omagh. He paid homage to his Irish roots and based the name off of a little town in Ireland. It is by Gillygooley (man I love that name) and NE of Clanaeogan lol Irish names are awesome!
~Yngwie~
1 day old
230g

Yngwie Malmsteen is a Swedish guitarist. A few of the bands he's played with are Alcatrazz, Steeler, Hear 'n Aid & Generation Axe.
~Sir Fartzalot~
1 day old
243g

Chris' other go to name suggestion 😂

The puppies at this age are very quiet unless there is something wrong in their world then they will squeak or chirp to let Mum know that they need attention. A few hours after he was born this little boy was upset. Juniper had already given him attention and was dealing with a different puppy, so I stepped in to help. The three things that are usually the problem are: being squished, not able to get a spot at the milk bar or having to go potty. You can probably guess what his problem was which led to him earning his name 😜 but let me tell ya I have never seen so much 💩 come out of such a little puppy before!
~Blarfingar~
1 day old
228g

If you haven't guessed by now Chris is a pretty funny guy who loves to laugh at other funny people and Betty White was one of the greats! If you haven't seen this skit before, be sure to check it out.
Yngwie was born with the cutest little 💜 on his side, just like his Mum had 🥰 and of course with his beautiful coloring he is easy to spot in the crowd. The other four are a lot more challenging, so I've been putting my artistic skills to use on these beautiful 'blank canvases' 😜

*The ink of course is nontoxic so won't hurt the pups or Juni.
This is where the babies hang out while I am cleaning their whelping pen. They have doubled their birth weight (except for Yngwie who will probably do so tonight or tomorrow) and are already bigger than their Kong Ducky!
From the top of the picture to the bottom: Princess PP, Sir F, Yngwie, Betty- I just can't seem to roll the r's to properly say Blarfigar so I've been calling her Betty 😊, and little Miss Omagh. The girls; Princess, Betty & Omagh and the boys; Yngwie & Sir Fartzalot.
These cuties are officially 1 week old. They are all growing well. The pigmentation on their nose, lips and eyes has begun to develop and is making them look even cuter. 🥰 The puppies weights are now: Princess Puddle Pants– 349g, Omagh– 322g, Yngwie– 355g, Sir Fartzalot– 394g, Blarfingar– 393g.
The pups are getting a lot cuddlier and enjoy snuggling into your hand now as they so cutely demonstrated with Kalei. 🥰 In birth order- Princess Puddle Pants the milk drunk cutie, Omagh, Yngwie, Sir Fartzalot & Blarfingar.
Guess who's two weeks old!
Junipers little sweethearts had a big milestone this week-their beautiful little eyes opened. 😍 This means that they move from the neonatal to the transitional stage of our program and we begin to introduce them to tactile items and new experiences. As you can see in the last picture, they really enjoyed exploring the pink teddy.

On the bed they are in birth order (left to right): Princess Puddle Pants, Omagh, Yngwie, Sir Fartzalot and Blarfigar. Princess Puddle Pants Omagh Yngwie
Juniper's Difficult Names Litter are 3 weeks old. They are amazing little sweethearts who are getting more adventurous and adorable every day!

Some of this week's milestones include: peeing & 💩 on their own, consistently using the potty area, their ears opened, licking and playing more with each other and Mum, playing more with toys, as well as noticing and wanting to interact more with people who enter the room.

I do have two spots still available with this litter so if you would like to add one of these gorgeous babies to your family in October go to the application tab and submit yours today. 👍🏼😊👍🏼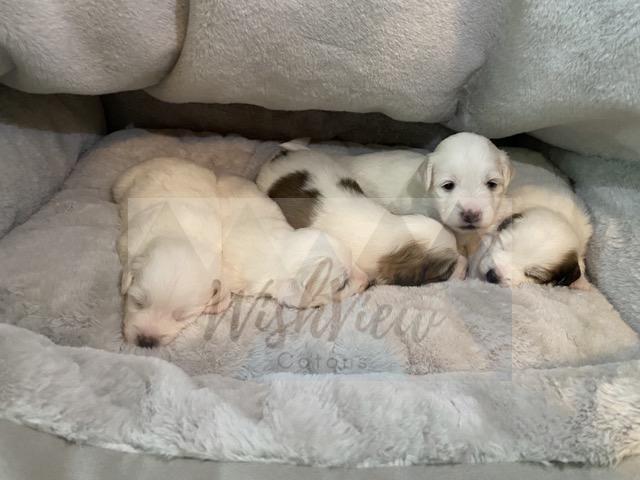 Adorable 4 week old puppies ahead! My goodness they are just getting cuter and cuter!!
This week's milestones- their micro biomes have been getting further developed through our weaning protocols, their teeth have started coming through (poor Juni!) Betty, Sir and Princess have some and Omagh & Yng have some huge nubs. They have learned to shake toys, escape from the whelping pen, come running to our puppy recall, wag their tails when they see you and have even begun to mand!! Such smart little cookies. 🥰
I do have puppies available from this litter so if you'd like to welcome a new fur baby to your family in October give me a call.
Juniper's gorgeous babies are 5 weeks old! I know I'm very biased but aren't they beautiful?!

Around this time is when their personalities really start to emerge. This litter has been different from my others in that they haven't shown a lot of obvious, or extreme differences yet. Overall they are all very well balanced, playful, people focused, eager to learn and very kind hearted.

They are all just little dolls and shockingly I still have puppies available. A bunch of the families on my wait list are eagerly awaiting puppies from my next litter which will hopefully have more color but if that's not important to you now is your opportunity to jump to the front of the line and get one of these stunning babies!
~Princess Puddle Pants~
5 weeks old
1.35kg

Princess LOVES massages and scratches! She is a little sweetheart who is eager to learn new things and usually the first to run over as soon as she spots you with her tail going nonstop.
She is very people focused, kind, gentle & a cuddle bug. 🥰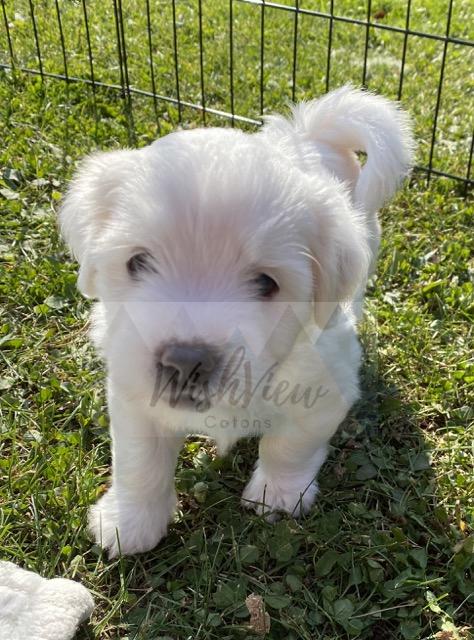 ~Omagh~
5 weeks old
1.18kg

Omagh is our dainty, sweet, little love bug. She is a bit more independent and quiet than her siblings but has been enjoying the treats so has started running ahead of everyone with her tiny tail going to get them. 😊 Even though she's the smallest, she isn't afraid to wrestle with her chunky brother Sir Fartzalot.
~Yngwie~
5 weeks old
1.38kg

Yng is our handsome, funny boy who always keeps us laughing 😆 He is very gentle, loves to give kisses and is also very playful.
~Sir Fartzalot!~
5 weeks old
1.60kg

Sir is a very observant and inquisitive little guy. He is very patient and will sit, look deep into your eyes and just melt your heart! 🥰 He is also very chill, playful, curious, and eager to please.
~Blarfigar~
5 weeks old
1.60kg

Betty is a lovely and chill little cutie who is adept at finding interesting positions to sleep in. 😂 She is very gentle, sweet, and brave.